Artilce: Designing web usability issues and recommendations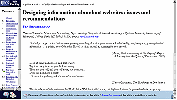 By Ben Shneiderman
URL: http://ijhcs.open.ac.uk/shneiderman/
Nature of the Content
This site holds an extensive categorisation of issues that are faced by website users. This paper nots that "Improved website design may increase users' successful experiences and positive attitudes". It reviews design issues, identifying genres of websites, goals of designers, communities of users, and a spectrum of tasks. The author, then offers an object/action interface model as a way to evaluate and design websites. "Finally, search and navigation improvements are described to bring consistency, comprehensibility, and user control".
Timeliness
This article was written in 1997, so it obviously is not timely enough to deal with new issues developed since then.
Audience
Web Usability Designers
Relevance
Extensive coverage of web usability issues, however it is not directed purely at e-commerce. As a consequence not all issues are relevant to an e-commerce web user and the article fails to raise the significant alarms that users have with privacy and security. The model it suggests and techniques to present information is detailed and especially helpful in highlighting considerations if developing the site from scratch. Usability & Design
This site is designed to be flexible and user friendly. Content is categorised with numerical headings making it easy for users to remember what sections they've looked at.. With options to print, multimedia demonstrations, and the ability make comments, it also meets an interactive fucntion. The Frame layout gives it a slightly cluttered look, however there is an option of switching article out of frames, to a one page article layout (convenient for printing). An abudance of images are also used to support the argument, and conceptual models to help ensure the user will not get bored reading.
Next Resource