Usableweb.com, 1472 links about web usability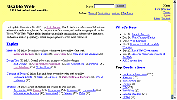 By Keith Instone, Usability and information architect
URL: http://www.usableweb.com/
Nature of the Content
Usableweb.com is a site with a collection of links on information architecture, human factors, user interface issues, and usable design specific to the World Wide Web. Like an e-business web portal.
Timeliness
Links appear to begin to go back from 2001. Information timely. However, arguably it may be static in the future if there are a lack of link updates. Although timely, it also only remains to be so, if the links continue to be active. Whilst many articles are stored on the usable web server, not all articles are. Changes on external site are not within the control of the site owner and can lead to the problem of dead links, moved and inaccessible information.. It is likely that some links therefore, might not be as timely as supposed.
Audience
Links are a Professional usually commercially based audience such as usability designers, testers and information architects involved with implementation aspects.
Relevance
E-Commerce Managers may not find this site so helpful unless they have extensive web usability knowledge and wish to be actively involved in developing the usability of their site. IT and usability specialists in management responsible for site evaluation, creation and maintenance would be able to utilise this site to update and keep a broad view of many issues apparent in usability
Usability & Design
Despite being hyperlink heavy due to the nature of the site ( it's a linking site), it is aesthetically pleasing using consistent plain text site with a conservative use of colour.. Ability to search information in a variety of ways - by date, by topic. Use of multiple organisation schemas gives the user an option of examining content by different methods. Importantly accessed data is placed inn the page centre. All the essential user needs - search engine, topical headings, site navigation buttons are strategically and well placed in a centralised, location that any user is familiar with. ( At the top of the page). The only major problems is dead links.
Next Resource