Article: Designing an E-Commerce Site for Users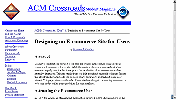 By Norbert J. Kubilus, Cross roads online publication.
URL: http://www.acm.org/crossroads/xrds7-1/ecuser.htm
Nature of the Content
This paper discusses the role of user interface design in developing e-commerce web sites and provides some guidelines for user interfaces. It highlights that human-interface design should consider any conceptual models, information presentation basis, and feedback to be effective.
Timeliness
Although published in 2000; this article was updated recently in January, 2001. Basic conceptual issues are still applicable today so unless the concepts and theories of information architects and usability experts become superseded by others, the article is still timely and relevant
Audience
Website Designers of Usability for E-Commerce sites.
Relevance
The article provides a guideline on basic design essentials to make E-Commerce Websites usable. Although specific function and features of sites are not included in great detail, what is included is the theoretical basis and beliefs that support the conceptual developments of sites. Vast amounts of efforts are placed into explaining why creating an E-Commerce site in a particular way makes it more usable than another, to match user expectations.
Usability & Design
Hypertext linking provides extra information should the web user require further details about related concepts, and theories. Shades of blue are utilised to maintain the uniformity of the page, and links are conventional colour, except visited links are in green, which is not really an issue. The article content is divided by subheadings to help detract from the lack of graphics to supplement the information. The site content is also divided and set apart from the main article under the left menu. Visually, the site is rather boring especially since the few headers that do exist are rather uninteresting.
Next Resource